UFWW Spring Officer Elections
This spring, the UFWW membership elected the following candidates for office to serve the faculty of Western Washington University.
Congratulations to:
Kristin Mahoney (Vice President)
Steven Garfinkle (Chief Steward)
Mark Springer (Treasurer)
Karen Stout (Director of Communications)
Rich Brown (At-Large I)
Yvonne Durham (At-Large 2)
David Leaf (At-Large III)
Mike Mana (At-Large IV)
********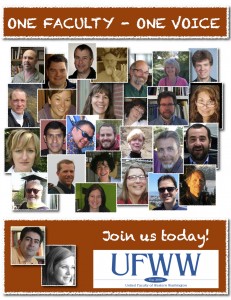 UFWW's bargaining success was featured in the January 2013 edition of the NEA Higher Education Advocate. Click here to read Mary Ellen Flannery's piece "The story behind WWU's phenomenal faculty contract."
As the author notes, "When the United Faculty of Western Washington
ratified their new contract last summer, they hit the mark on almost every page: academic freedom, intellectual property, job security for contingent faculty, ownership of online work, and salary too. 'You are a model for leading the profession in higher education,' applauded NEA President Dennis Van Roekel."