Upcoming UFWW Forums for NTT Faculty
If you are an NTT faculty member, please attend one of the UFWW NTT faculty forums scheduled next week, April 8th and 9th. The Task Force's charge is to consolidate data collected and make formal recommendations to the UFWW Executive Council regarding issues related to wages, benefits and working conditions. If you're off-campus, or unable to attend, please click here for a document with information that you can complete and return: Off-campus NTT.
The intent of the forums is to identify priorities in order to develop an online survey that will be sent to all NTT faculty at Western in the latter part of April. The Task Force will summarize the information gathered, and then present the report to the UFWW Executive Council.
Tuesday, April 8th:
9:00 a.m. Biology 415
4:00 p.m. Miller Hall 121
Wednesday, April 9th
9:00 a.m. Miller Hall 123
4:00 p.m. Biology 415
We hope to see you there!
Katie Stables, Mathematics
Korry Harvey, Communication Studies
Julie Dugger, English
Sean Dwyer, Modern and Classical Languages
Janice Lapsansky, Biology
Beth Stickley, Special Education
Information about Representation Fee
Starting on the October 10, 2013 paycheck, a representation fee will be deducted for all faculty who are tenured/tenure track and senior lecturers, but who are not members of UFWW.
If you would like a description of the Representation Fee, please read the Voter's Guide that was created prior to last year's union membership vote. This document describes the reasons why UFWW members voted to enact the fee, how it is calculated, and the benefits UFWW has provided for all faculty.
But please also refer to the page on UFWW's new progressive dues structure, because the membership dues have been updated for this year.
For faculty at the rank of senior instructor and above that have a religious exemption to paying union dues, please contact UFWW President Chuck Lambert to start the process for that exemption.
Regardless of one's union membership status, all faculty members are members of the bargaining unit and are represented by the United Faculty of Western Washington. If you would like to become a member of UFWW, please complete the membership form and send it to Chief Steward Mike Mana.
********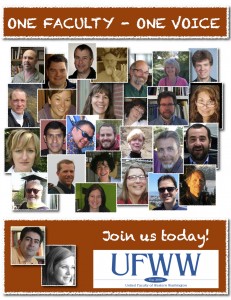 UFWW's bargaining success was featured in the January 2013 edition of the NEA Higher Education Advocate. Click here to read Mary Ellen Flannery's piece "The story behind WWU's phenomenal faculty contract."
As the author notes, "When the United Faculty of Western Washington
ratified their new contract last summer, they hit the mark on almost every page: academic freedom, intellectual property, job security for contingent faculty, ownership of online work, and salary too. 'You are a model for leading the profession in higher education,' applauded NEA President Dennis Van Roekel."