Collective Bargaining 2015
We are in the final year of our current Collective Bargaining Agreement (CBA), which will expire in September 2015.
The current CBA between the United Faculty of Western Washington (UFWW) and the WWU administration reflects the positive working relationship between UFWW and the WWU administration; it preserves and enhances the quality of WWU by protecting faculty members' ability to offer students outstanding educational experiences and by ensuring that Western is able to recruit and retain excellent faculty members.
Please attend one of our faculty forums for more information.
All Faculty Bargaining Forums:
Tuesday, February 10, 4pm, CF 120
Wednesday, February 11, 4pm, HH 153
********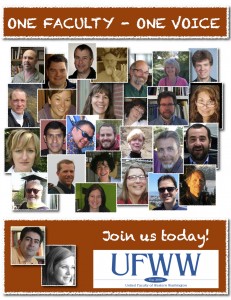 UFWW's bargaining success was featured in the January 2013 edition of the NEA Higher Education Advocate. Click here to read Mary Ellen Flannery's piece "The story behind WWU's phenomenal faculty contract."
As the author notes, "When the United Faculty of Western Washington
ratified their new contract last summer, they hit the mark on almost every page: academic freedom, intellectual property, job security for contingent faculty, ownership of online work, and salary too. 'You are a model for leading the profession in higher education,' applauded NEA President Dennis Van Roekel."