Collective Bargaining Update, September 2015
Dear Colleagues,
Bargaining for the new contract resumes in September.
Our current Collective Bargaining Agreement (2012-2015) expired on September 15, 2015. UFWW and the Western Administration have signed a Memorandum of Understanding to continue the current CBA until negotiations on a new agreement have concluded.
Please look for updates via email or the UFWW website.
With best wishes for the beginning of the new academic year,
Your UFWW faculty team
********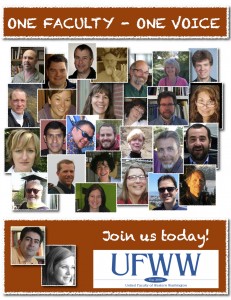 UFWW's bargaining success was featured in the January 2013 edition of the NEA Higher Education Advocate. Click here to read Mary Ellen Flannery's piece "The story behind WWU's phenomenal faculty contract."
As the author notes, "When the United Faculty of Western Washington ratified their new contract last summer, they hit the mark on almost every page: academic freedom, intellectual property, job security for contingent faculty, ownership of online work, and salary too. 'You are a model for leading the profession in higher education,' applauded NEA President Dennis Van Roekel."