Collective Bargaining Update, October 2015
United Faculty of Western Washington is pleased to announce a successful conclusion to the negotiation of a new Collective Bargaining Agreement. This is the result of many hours of work by the UFWW and administration bargaining teams.
So that the new CBA can go into effect as soon as possible, we welcome the opportunity to inform all faculty about the terms of the tentative agreement at two forums next week. The UFWW exec and bargaining team will present the details of the tentative agreement and answer questions. The UFWW membership will then vote on the tentative agreement.
Forums on the tentative agreement:
Thursday, October 29: 12:00-1:00 p.m. in FR 101
Friday, October 30: 3:00-4:00 p.m. in MH 138
We are working on a process to make the specifics of the tentative agreement available for faculty who cannot attend the forums. We will send the details of that process as soon as they are ready.
********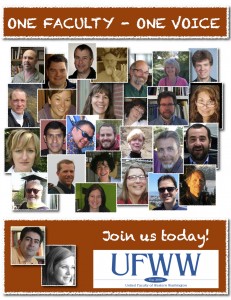 UFWW's bargaining success was featured in the January 2013 edition of the NEA Higher Education Advocate. Click here to read Mary Ellen Flannery's piece "The story behind WWU's phenomenal faculty contract."
As the author notes, "When the United Faculty of Western Washington ratified their new contract last summer, they hit the mark on almost every page: academic freedom, intellectual property, job security for contingent faculty, ownership of online work, and salary too. 'You are a model for leading the profession in higher education,' applauded NEA President Dennis Van Roekel."